How to Import VCF File to Samsung Phone?
Looking for a reliable solution to import VCF file to Samsung phone? Wondering how to transfer contacts from VCF to Samsung phone? But no solution found? Now you don't have to worry. You are in the right place, in this article, you will get a perfect and effective solution to transfer vCard to Samsung Contacts phone easily.
Phone contact is important: it is the way we stay connected and it is an important resource in our personal and professional lives.
However, nowadays smartphones rule the world and most of us prefer our phones to access our important information. That is why users tend to add VCF contacts to Samsung phones so that contacts can be accessed anywhere. Unfortunately, it's not that simple, which is why we created this technical guide. Here we will show you how to import VCF file contacts to Samsung phones with simple steps
Similar Blogs:
Import Multiple VCF Contacts File to iPhone
Best Solution to Import VCF File to Samsung Phone
Try the SysTools vCard Viewer Pro Tool. This is the first application to convert VCF files with one or more contacts. The software can efficiently transfer vCard files with full details such as attachments, avatar, full name, email, company, job title, website address, company address, company phone number, landline number, company fax number, mobile number and Home address etc. After that, you can transfer the VCF contacts to your Samsung phone.
It supports various vCard files retrieved from Google Apps/Gmail contacts, Entourage, Lotus Notes, etc. After that, just use the following techniques to move the vCard to Samsung.
After getting the vCard contacts, follow the steps below to import the vCard to your Samsung phone.
NOTE: The procedure described below is for a Samsung Galaxy J7. However, you can migrate this to any of your Samsung phones.
First, pair your device with the computer and configure your Samsung Android device. Use the above solution to select all the contacts files you exported from your email service. So, open the vCard file and right click to select send option to transfer VCF contacts to Samsung phone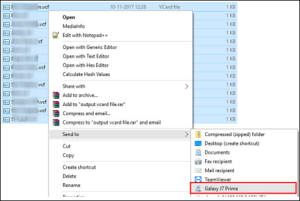 Now disconnect your Samsung device from the computer. Go to the contacts section of your Samsung phone and press Settings then Manage Contacts option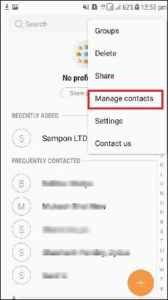 Select the import/export option to initiate the conversion of VCF to Samsung contacts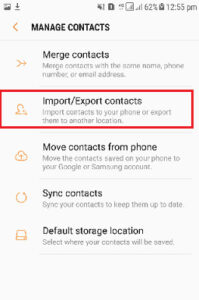 After that, the user can select "Import vCard file (VCF) from Samsung phone" in the next step. Then click the Import button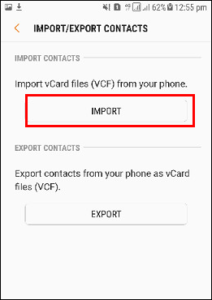 Select location (internal storage option) to import contacts from VCF to Android Samsung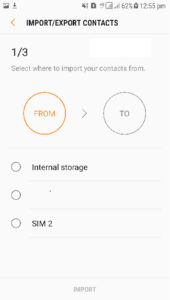 Select the VCF Contacts file. Click Done option to transfer contacts from vCard to Samsung Android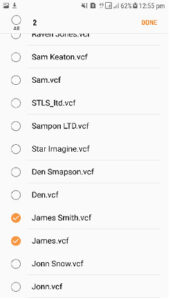 Now choose the destination where you want to save the imported VCF file. Select the phone option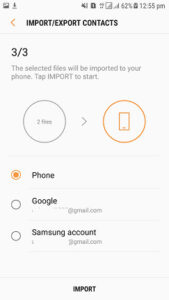 Now users can see the imported contacts in the contacts list of Samsung devices.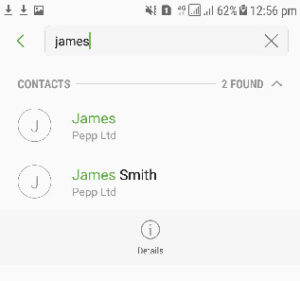 Core Features of the Application:
No external application or plugin installation is required to perform the conversion.

You can move multiple VCF contacts to Samsung at once.
It provides several descriptive file names so you can organize your data systematically.
You can save the resulting file anywhere on your computer.
There will be no data loss problem when transferring vCard to Samsung Android using this software.
It maintains the internal folder structure during the conversion process.
No changes and no data loss while using this reliable utility.
This software comes with the most simple and user-friendly interface which is easy to use for both technical and non-technical users.
With this software, there is no change in the originality of the data.
Options to split and merge VCF files into one file.
It supports all latest and old versions of Microsoft Windows operating system like Windows 11, 10, 8.1, 8, 7, etc.

You can also view a free trial before purchasing a license key for unlimited conversion. It allows you to export multiple emails to supported formats.
Need help ? ?
We hope you are now familiar with how to import VCF to Samsung phones. We explain the entire solution seamlessly. However, if you are still unsure, you can always contact our technical support team.
Conclusion
How to import VCF file to Samsung Phone is one of the most searched questions on the internet today. To make this task easier, we reveal the simplest solutions in this document. The method discussed in this article to transfer contacts from VCF file to Samsung is very simple and can be implemented without any technical assistance. All technical and non-technical users can use it to quickly import vCard contacts to Samsung phones.