How to Merge VCF File – Instant Trick
Do you want to merge VCF file? If so, then you are in the right place. Here, we have come up with a tremendous solution for you which helps in merging many VCF files. Therefore, we begin this process without wasting time. But before proceeding further, let's discuss some important information about VCF files.
VCF or Business Card is a standard file format for storing all contacts supported by many email applications. This includes all important details such as contact name, address, phone number, and email address.
Why Need to Merge VCF File?
 You can easily manage your contact files by merging several vCard or VCF files into one file.
VCF is the easiest and fastest way to exchange contact information compared to using other traditional business cards
You can easily open and read it with a text editor such as Notepad.
Manual Methods to Merge Multiple VCF Files
Users want to combine VCF files for various reasons. Here, We will learn two different ways to join VCF files.
Follow these steps to merge multiple vCard contact files simultaneously.
1. First, you have to copy all the vCard files that you want to combine into a folder.
2. After that, simultaneously press Windows + R keys and type "cmd" in the box. This will open the Windows command prompt on your system.
3. Then, Navigate to the folder where the VCF vCard files are stored.
4. Now, enter this command: * vcf copy all.vcf
5.  Now, All files will be merged into one VCF contact file. It will be named all.vcf.
Drawbacks of Manual Method
Follow these steps to merge multiple vCard contact files simultaneously.
Manifold Process: This process consists of several stages. The user should take great care to complete all the steps with care.
Limited Functions: This method will only change the vCard version. This technique cannot be applied if the error was caused by other reasons..
Success is not Guaranteed: the success rate of this method is very low. In most cases, this method will not allow you to change the vCard version correctly.
Method 2: Automatic Solution to Merge VCF File
To face all the limitations, users should enlist the help of a reliable automated tool, namely Vcard Viewer Pro. It is designed to export VCF contact files of one or several contacts without any file size limit. Also, it provides the option to merge or split vCard contacts in bulk. It is a user-friendly and easy-to-use software specifically programmed to merge multiple VCF files. This software can sort contacts by date, size, or alphabetical order in a multiple contact VCF file. Also, it is compatible with versions 4.0, 3.0, and 2.1 of VCF files. This application runs on all versions of the Windows operating system. These are some of its basic features:
Merge  VCF files into one vCard
Able to convert VCF files to PST and CSV files
Export Both Types of VCF File: Single as well as Multiple Contacts
Steps to Merge VCF Contacts into One File are as follows:
Step 1: Install and Run the vCard Viewer Pro tool
Step 2: After that, Choose Add file or Add folder to load the VCF contact file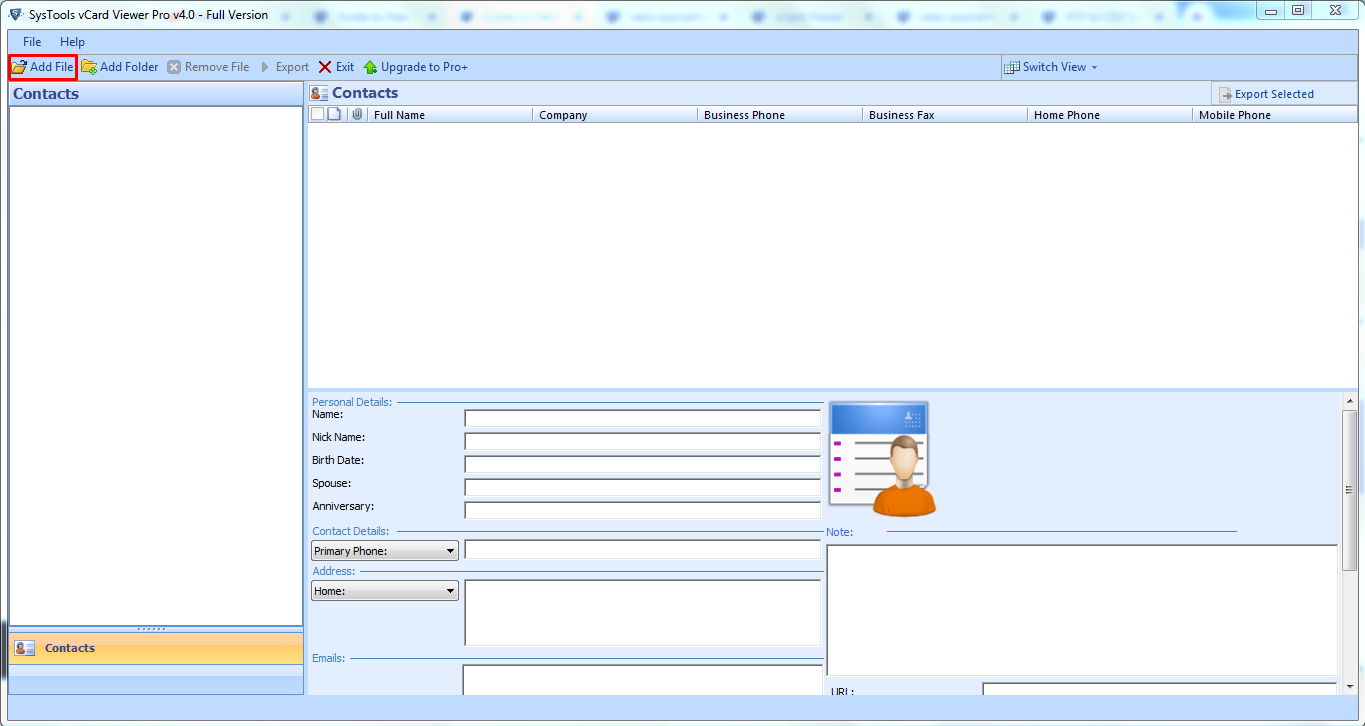 Step 3: Now, you have to choose  the radio button for merge vCard file, and select on the "Explore" button.

Step 4: Later, select the "OK" tab in the software user interface.

Step 5: Finally, click on the Export button.
Final Words
Merging multiple VCF files can be a difficult task. Here, in this blog, we have included two different techniques for merging VCF files. The manual method described above is rather lengthy and can sometimes cause users to lose data permanently. Thus, users can choose an automated solution for results that are 100% faster and more accurate.