How to Restore Backup Files in Windows 10
Data backup is one of the most important strategies to overcome any dangerous circumstance that can lead to data corruption or loss. The NTBackup application is included with satisfactory results in the NT series of Windows versions such as Windows XP. This utility backs up all data files to a single BKF file, which can be easily restored with the same application. To learn more, read this blog in full, "How to restore backup files in Windows 10" Before we continue with this process, we first know about BKF files.
What is a BKF file?
The BKF files used by these operating systems contain a list of files that have been backed up with the utility. If the data on the user's computer is damaged, corrupted, the BKF file can be used to restore the data on the user's system.
Why Need to Restore BKF File?
It is said that frequent data backup is a good practice for a computer user. The best way is to back up your records regularly. Files in the .bkf format are primarily related to the Windows backup utility. These files are primarily produced in the Windows and NT OS systems. The BKF extension file typically contains a list of files that this utility backs up. This includes the Windows operating system.
How to Restore Backup Files in Windows 10 Manually?
After downloading the files, double click ntbackup.exe. Click OK.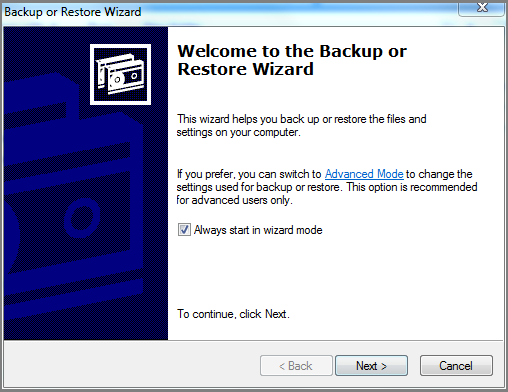 Now click on the Restore files and settings option.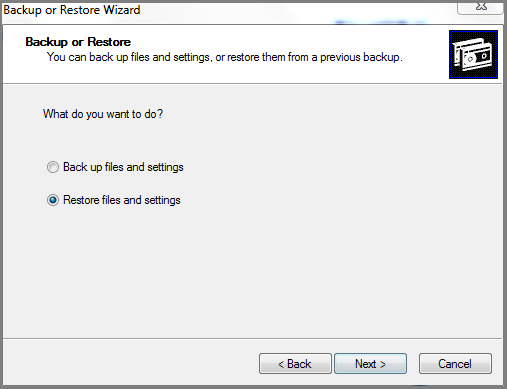 Select Browse to add BKF file and click OK. Here the user can select the folder that they want to restore data.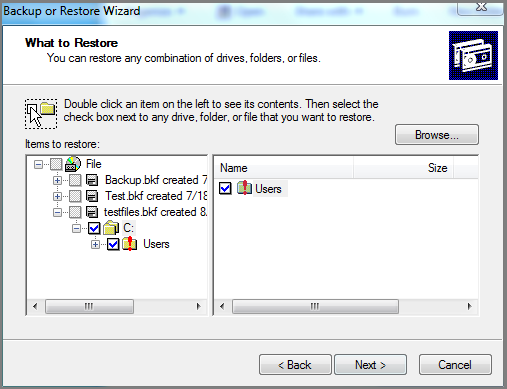 Then choose an advanced option and specify the preferred location for restoring the backup file. Then click on Next.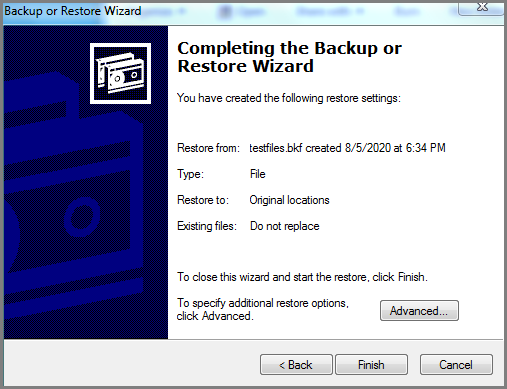 Hit on the Next tab to finish the procedure to recover backup BKF files.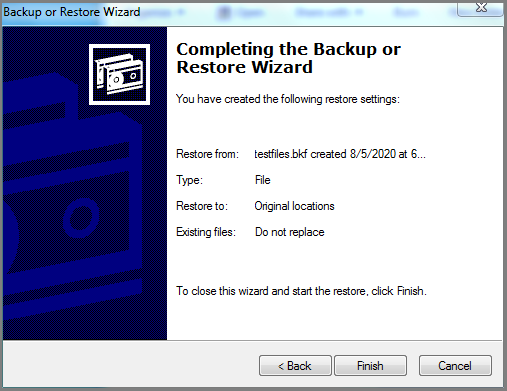 How to Restore Backup files in Windows 10 With Automatic
Most users who use the manual method for this process do not find it possible for their situation. Even though the manual method is free, users cannot restore backup files due to its limitations. But do not worry! ​For this, you can use SysTools BKF Repair Tool which can easily repair and restore corrupt BKF files without any hassle. however, the tool provides an option to preview recoverable file names of corrupted or damaged backup files. Even the software does not impose any limitation on the file size. You can use the demo version of  Utility to recover backup data files in window. It is highly compatible with upgraded and lower versions of the Windows operating system
Follow the steps below to restore corrupted or damaged backup files in Windows 10 to a healthy state:
Install the Windows Backup File Repair Tool and run it on your system.
Next, browse and select the BKF file.
Choose 3 scan modes: Quick, Deep or Range based, and click on the Scan button.
After the Scanning Process is Complete, the software will preview the recovered data item
Extract the backup file from the original or selected location as required. Click on the extract button.
Why Choose BKF File Recovery Tool
The Tool repairs and restores Windows backup files generated by NT-Backup Exec, Symantec Backup Utility (Veritas).
Retains original formatting and folder structure after data recovery
Compatible with all versions of Windows OS System
Retrieve data from BKF data files including email, images, documents, audio, video, and more.
No file size restrictions to restore the backup file.
Immediately repair Windows backup and restore from external hard drive to another system
Conclusion
Above, we described two ways to "how to restore backup files in Windows 10". You can opt for manual technique, but be careful. Free method of recovering data from damaged BKF files with some limitations which can lead to data loss problems. In this case, use an automated solution to prove helpful. So you can choose any method according to you.