The Complete Guide to Change Outlook Data File Password
Microsoft Outlook data stored in a PST file can be secured by applying a password. However, the password is set to prevent access from any unknown user. But, sometimes users forget their passwords or they want to change Outlook data file password. In this case, Microsoft Outlook does provide an option to reset or remove the password entirely.
But, that can only be possible if you remember your old password wholeheartedly. And, if you don't then only a professional solution will be able to help you out in this situation.
How to Change Outlook Data File Password If you Know the Prior Password?
This procedure will only take a few minutes if you remember your old password. Simply get through these below mentioned steps to change Outlook data file password.
Before we start this process, users need to keep one thing in mind if you have forgotten the prior password of Outlook, then this feature is just not for you. You can skip this part and move forward with the professional solution. Since Microsoft Outlook does not provide any type of recovery option to recover the password manually.
In the beginning, run Outlook and navigate to the File tab. Now, go to the Account settings tab and then choose Account settings option from there.
Now, select data files tab from the recently opened dialog box Account Settings. Simply select Outlook PST file and press the Settings tab.
After this step, a dialog box named Outlook Data file is opened. Next, you can click on the change password option to change Outlook data file password.
Other than this technique, we have another method for Outlook 2003 and its prior versions. There are inbuilt scanPST.exe and PST19UPG.EXE applications to help you reset the PST file password.
Also Read:- How to Repair Password Protected PST File?
Change Outlook Data File Password by PST19UPG.EXE Application
Execute these below-listed steps to use this utility:-
In this step, you need to create data file first, and then close your MS Outlook Application.
Now, run the ScanPST.exe and then repair your PST file when it is completely done. You can now move your data file to pst19upg.exe.
Then make sure to tap Windows + R and after this add the code CMD and you now enter your destination of the pst19upg.exe.
Apart from this, you can now enter "PST19UPG.EXE – PSTCOPY.PST". After this, a new PST file will be created PSTCopy.PSX.
At last, you will be able to name your original PST file and fill the PST19UPG.exe – lPSTCOPY.PST in the command box. Then, simply hit the enter button.
As we have explained earlier, this technique is only applicable for the older versions of the Windows operating system i.e. Windows 98 & 2000.
Read More:- How to Remove PST File Password?
Try a Professional Tool to Reset Outlook Data File Password
A professional tool will help users to change their Outlook data file password, even if they do not remember the old password. One such utility is the PST Password Remover Wizard which helps to recover lost, forgotten, and multilingual passwords. It can recover the password of numerous PST files in a single go. Other than that, it works efficiently and effectively with all the versions of the Windows operating system. This utility also supports both type of MS Outlook such as ANSI and UNICODE data files.
Here are some key features of this Remover tool:-
Delete Password From Outlook Data File of MS Outlook 2016 & its below versions
Also supports both ANSI & UNICODE type of Microsoft Outlook Data files
Recover both lengthy and Multilingual types of passwords
Works with all the versions of the Windows operating system
No need for Outlook installation and configuration
Complete Procedure to Utilize this Remover Tool

Execute these below-mentioned steps to utilize this tool:-
1. Launch this Outlook PST Password Remover on your Windows System.
2. You can now add your files by selecting either Add File or Folder(s) option.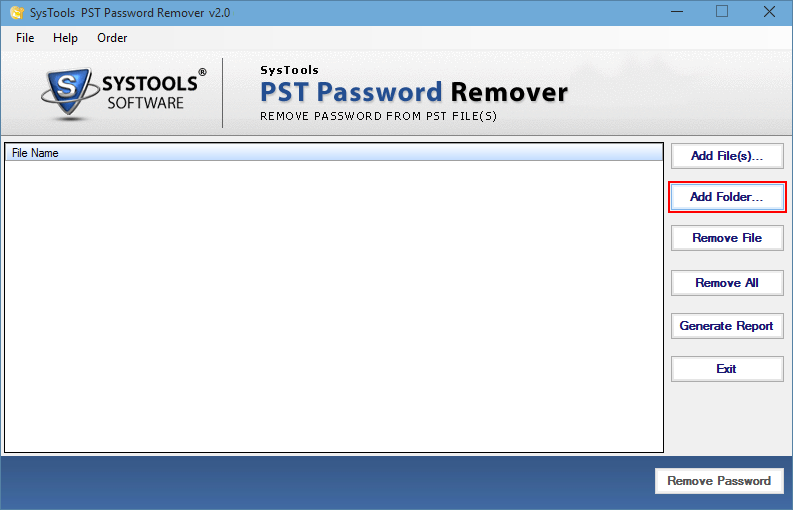 3. Now, you will be able to watch the status of your added files.
4. Lastly, press the Remove Password option to change Outlook PST file Password.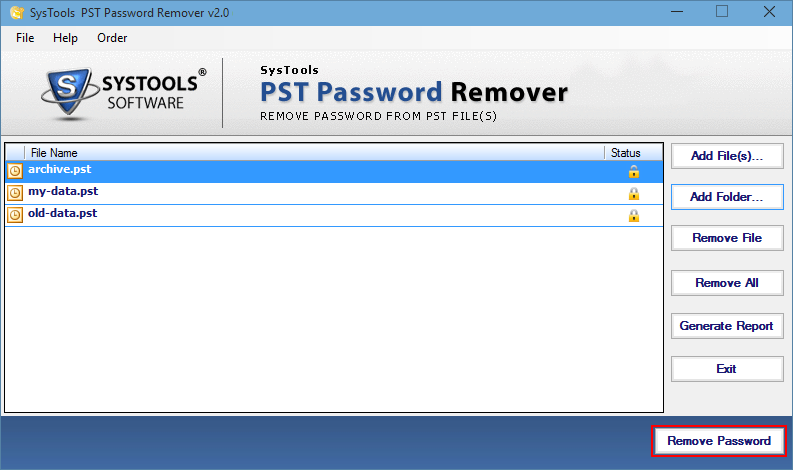 Briefing it All
The following article helps users to change Outlook data file password. Many users add passwords to their PST files for protection and security. But sometimes they forget their passwords or want to reset the password. So in this scenario, the best solution would be to use an automated solution like the one that we have mentioned in this article. The other two free methods only work when you either remember the old password or have been using Windows 98 or 2000.